Will you be moving to Hawaii soon, or you know of someone who is going to relocate in Hawaii? If you do, and you need a place to stay for good, you can check out Hawaii Real Estate listing and see if you can find an agent that you can trust from the American Dream Realty office that can help you with your house hunting. Moving to a new area can be hard and find a home is not easy either. If you have an account on Facebook, you can go to American Dream Realty account and check out all their listings there. They have so many great houses on their list and you will love each one of them.
They have houses in different places that you will surely would like to live in. Waikiki, Honolulu, Diamond Head and a lot more are great places to begin looking for houses that soon you can call your home. They are not only great looking, they are also affordable and you and your family will enjoy the view and the location . Let the agent know what you're looking for, give them all the details of the house that you want and they will work with you.
Hawaii is one place that I had been dying to see, hopefully one day when the kids are grown and won't need my full attention, hubby and myself can travel and enjoy the sun, the beaches and the palm trees and of course the pineapples. It's not bad to dream, and since dreaming is free, I will dream big. Who knows one day, I will be contacting the American Dream Realty to buy a house , there is nothing possible if you put your mind and heart to it. Good luck to me.. Aloha!
It was last Saturday when I attended my friend's baby shower in TN. She's going to have a boy this time. She already has a 5 year old little girl. As soon as we found out that she was pregnant, we already planned on giving her a baby shower. It was held at our other friend's house. Lots of our friends attended and there were some games too.
Jen's been my friend since 2005, we met in Korea, we were both pregnant with our little girls, and became friends since then. They come visit me from time to time and there's occasion at their house I go if I am open.
Baby shower was a success. It's nice to have lots of good friends. She's got a lot of baby presents. I am glad that I was a part of this celebration. I guess I will her when the baby's born in September. She is due in August, but there is going to be another occasion after her due date. I hope that will be able to go.
Don't go any further, The Smile Generation can help you find the dentist that you can trust. I know that finding a dentist can be hard and it would take long before you can ask around or wait for a recommendation of a friend of family. We have to consider a lot of things when looking for someone to work on our teeth. If you are a family guy, you also need to think of your kids or wife and all that. You want to make sure that the whole family would love your chosen dentist. Family dentist is what you need in that case. Sometimes, you look for someone affordable, great teeth can cost money if you don't take care of it at an early age. It can rot and visiting the dental office regularly can not only save you money, but it will also bring you a brighter smile.
Toothache is no fun, I had that so many times when I was young. Our parents didn't take us to the dentist in a regular basis, but now that I am a parent myself, I take my kids to see our dentist every six month. Dentists can be your best friend, they will tell you how to take care of your teeth and gum. I took my son to our dentist last April and our dentist says that he might need to wear braces due to his teeth being crowded, but for right now, he would have to monitor it first. This is one of the reasons why I love our dentist, he is an honest person. This is the kind of dentist that you all need. Honest and trustworthy is what we are looking for. If you are having hard time finding your own dentist, call The Smile Generation now and book an appointment over the phone, or check out their website and find yourself a good and nice dentist that you can trust for a long long time.
I decided to have my hair chopped off last Friday, tried one length for the whole week but I wasn't happy. Even my husband wasn't happy about my hairstyle. It's not the hairdresser's fault, it's mine. She did what I asked her to do and so it's me to blame.
I went back to the salon and I asked her to add a little style to it, layers maybe. And here's what she did. Now, I love my hair. I like my hair long, but since it's so hot right now, I always end up putting it on a pony tail and besides it has a lot of split ends. I love short hair, easier to style, but hubby said I look old with short hair. Hmm..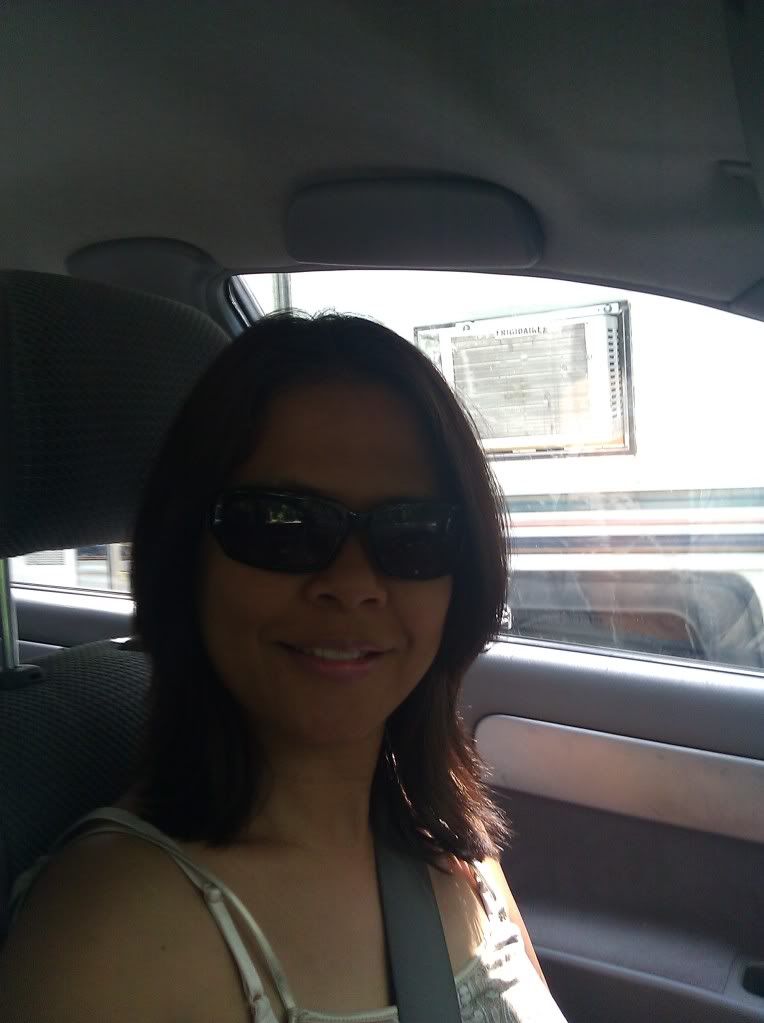 What do you think?
Have you heard the line " My computer got attacked by a virus and it crashed!" Well, what is the best thing that you can do to protect your computer from crashing? Is it bad that most of the important stuff that you saved in your computer is now gone because you failed to install something that can protect your computer? Anti Virus Protection is the best thing that you can give your computer to last longer and to also protect your important documents that you have saved in your prized possession. NO wonder my husband was one day had an anti virus software and she did some installing in m y laptop. He knows that most of the time I just download stuff and I won't even know if it contains virus or not.
We have to really be careful opening attached emails nowadays because there are bad people out there who would send you stuff thru email and when you open it or download it, it has virus and it would be too late to realize it until your computer is useless already. And if we ever installed an anti virus in our computer, have the habit of scanning for virus regularly. If you have problems with virus, go to Bitdefender and do your computer a favor, get an anti virus software to protect it. They are offering a 30% off if you pre- order now. Check out the website to see which one suits your budget and you and your computer will have a long life together. Don't procrastinate, shop now and enjoy your work without interruption.
I am a Filipina and I am proud of who I am. I am not ashame to admit that I came from a poor family. I didn't have lots of clothes, toys, shoes nor food while growing up. I experienced going to the farm for extra allowance during my high school days. I planted onion, pulled out weeds, tried to plant rice (didn't work, I was too short and mud was up to my neck..) and all those things that only poor people can experience. When I was at school, I didn't have nice shoes, I remember when I was in 2nd year high school my cousin Grace who lived in Quezon City spared me her old shoes and it fitted me perfectly. But because it's an old pair, the front was sticking up. I used to put glue every morning before going to school. I didn't have a big allowance, maybe enough to buy lugaw (porridge) and a glass of sago (tapioca drink). Life was simple for me and yet I was so happy.
We get excited when it's close to Christmas because we know that we will have pancit, sopas, gelatin, and softdrinks. The only time we can drink soda was when there's occasion. We were looking forward to birthdays and all, for it's the time that we can have a package of monay and soda. Was life hard? Yes, definitely , but as I was thinking about it now, it was more simple and more fun.
Laying on the floor is a normal thing to do in the Philippines. Not everybody has a nice bedroom set to sleep on. But, it's more enjoyable when everybody is on the floor and having a little chit chat
Birthdays were simpler during my younger years too. A little bit of food to share with everybody, a little bit of posing here and there was enough to have enjoyment. But now, everything is big and complicated and expensive.
A get together attended by friends and family is the best and most enjoyable gatherings ever. To be happy and satisfied, it doesn't need to be grand and big. Most of the time, the SIMPLER is the BETTER.
Would you agree with me on this?? I bet you would. Have a great day to all!!!
Have you ever been at the bank and wondered why they have these stanchions, or retractable ropes, even if there isn't a lot of people there? I was at the bank one day and wondered the same thing. Then I thought about how chaotic it was when we were at the zoo and people were just cutting the line when we were standing there to get our tickets. I realized that sometimes this bank must be very busy, and these stanchions must keep people from getting too crowed or out of control.
Another method of crowd control is the use of a velvet rope. These are not only stylish, but are an effective method to avoid disastrous situations. Velvet ropes are usually used at really fancy places, for example a nice restaurant, or a Hollywood party.Also velvet ropes are usually long lasting considering there durability. They also come in some very popular color, like red, burgundy, and black.
Also a method to avoid a conundrum is the use of barricades. Barricades are commonly used in situations to insure traffic safety, security and privacy. One popular form of barricades is setting up traffic cones, but other uses include barricade fences, and pipe and drape walls. Barricade fences can come in different sizes to provide even more privacy than other forms of protection. For example, what would happen if the only kind of protection for your house was a small, white, picket fence. That wouldn't provide much protection from some crazy person keeping watch on you at all hours of the night. Barricades are much more protective.
So in the end, the many methods of crowd control are safe, easy, and effective way to ensure protection, privacy, and a non-chaotic environment for everyone.
This picture was taken when we went to Aunt Dolor's house for a week stay. Before going to Chicago to visit some cousins, we took some photos and here it was.
Hope you have a great day!
My husband told me the other day that he will be traveling on Monday and it is work related, he said he will stay over night and won't be back until Tuesday after work. Was I worried that we will be left alone here at the house? A little bit, even though we have a quiet neighborhood. You can never tell and you can never be sure. If we lived in AZ, I could have called the home security Bentonville for installation of home security device. If hubby goes traveling even for one night, I will be left with four children. Although the older ones are seventeen and fourteen, the younger ones are four and five. It's still scary to think that if someone breaks in, I don't know how to save my children. That's why home security is always the best that you can do to protect your family.
And since we have home security installed, I have a peace of mind that we will be safe. Then and only then that I can enjoy watching my favorite movies because we have a subscription at Direct TV. My whole family loves to watch movies, my kids enjoy watching cartoons, Nick Jr. Disney channel and all that. With subscribing to Direct TV, we don't have to go out to watch movies, we can stay at the house and enjoy ourselves by sitting on the couch while munching on some popcorn.
If you are looking for some enjoyment yourself, subscribe to Direct TV now, sit relax and see a movie!
Yes Folks, that is yours truly when we went to the Museum of Science and Industry in Chicago, IL during our vacation. We have seen a lot of things that were educational. The kids enjoyed it. The whole place is so big that we didn't get to see everything.
The truth was, we went to the wrong museum. We were supposed to go to the Field Museum, instead, we ended up going to the MSI. No wonder we can't find dinosaur bones. (wink)
If you happen to go to Chicago, try to visit these two museums and you and your family will definitely enjoy it. We did, eventhough we got exhausted…It's worth it.
Have a great day to all!