>center>

It's been getting cold lately and if you have a dog and an outside pet, it would be best to get them dog heating pad. I was outside earlier and found my dog;s water bowl filled with ice from last nights temperature. No wonder she cannot drink her water because it was frozen. I replaced her water, fed her and left her for a little bit. I came back outside and found my dog shivering. I immediately called her in so she can be warm inside. Although we decided that she's an outside dog now, we can't let her stay outside and freeze to death. I will have to get her one of those heating pads so she can stay in her doghouse outside our front porch.
If you are looking for powered speakers, you can save on JBL audio if you buy it online. There are so many to choose from, but only one will work for you and your budget. Speakers can improve your performance and your music will sound better. Many musicians are meticulous when choosing their musical instruments. They will look far and beyond just to find the right equipment and they will only be satisfied until they do so. My uncle who loves to play guitar always has to connect his electric guitar to a speaker that way he can hear his performance very well. Good for him, he enjoys it really good.
My short visit to Arkansas was a blast. Although I was still sick when I drove there with our 4 girls, it was a great visit and I enjoyed it so much. My sister-in-law planned an "all girls" day out for us, and so the next day after we arrived , we went. One of the places we went to was the Big Dam Bridge in Little Rock AR. We have seen a lot of people crossing the bridge. Some were there just to look, like we did and majority were there to run or jog. I have also seen people riding their bikes.

It was a great place and very clean too.

I am afraid of heights, so I can't bring myself to look down the water. Although I know that I am not going to fall, my stomach was already feeling so sick just by looking at the water from where I was sitting.
My kids were so brave, stepping on the ledge  and making me nervous. They enjoyed is so much.

Our 4 girls with their wonderful aunt. Maybe next time I can stay longer than 3 days so we can visit more places over there.
Arkansas is a nice state although I have only seen a little bit of it, but it's a great place to live. .
Have a great day everyone!
As we all know there are so many immigrants in this country. They are all over the United States, andd some are having issues with their eligiblity. I have heard that there are so many Filipinos who live in California, I guess because the weather is almost the same as the Philippines. I remember when my cousin looked for an immigration lawyers in Los Angeles due to her issues with her permanent residency. I am so glad that everything got taken care of and now my cousin is a US citizen. Thanks to immigration lawyerw who are willing to help people in need.
It was last summer when we went to Arkansas and visited my sister in law. The girls and I stayed for few days, but our 2 girls stayed for 2 weeks. We had so much fun. Who says that you have to spend money to have a great time?
My sister in-law planned on having a great day with the kids in their back yard using trampoline, and it worked. They had a blast. Sometimes, you just need to think of a neat way to enjoy time with the family and it brings you closer that you can ever imagine.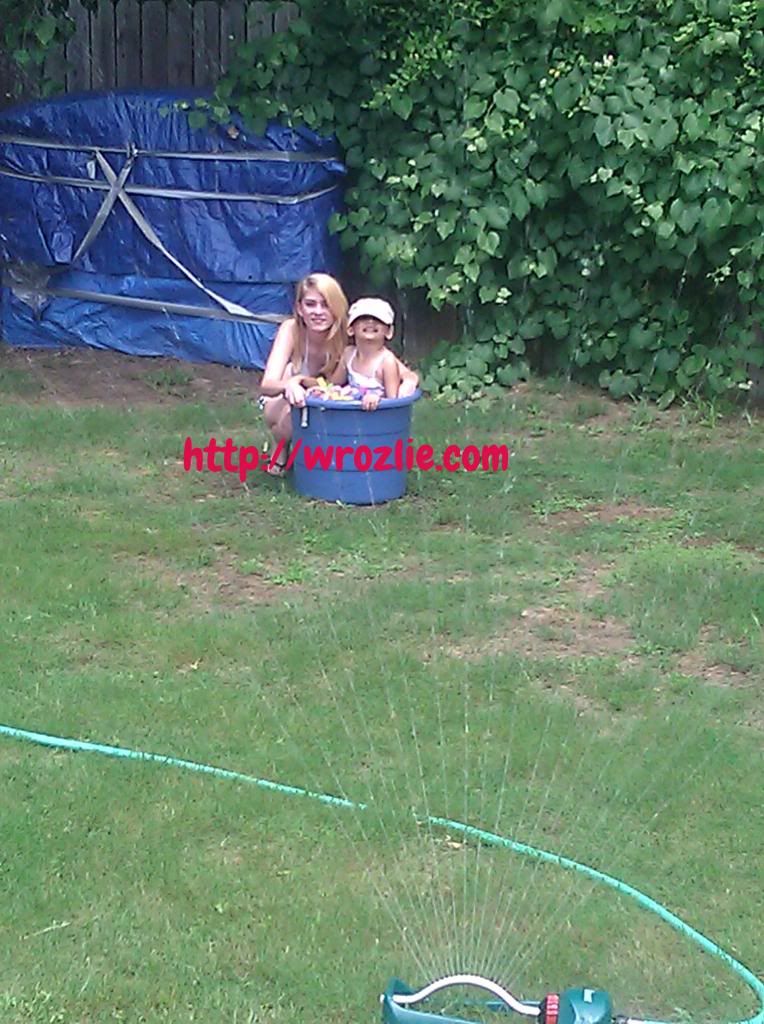 Our two daughters posing for me.

The whole gang inside the trampoline.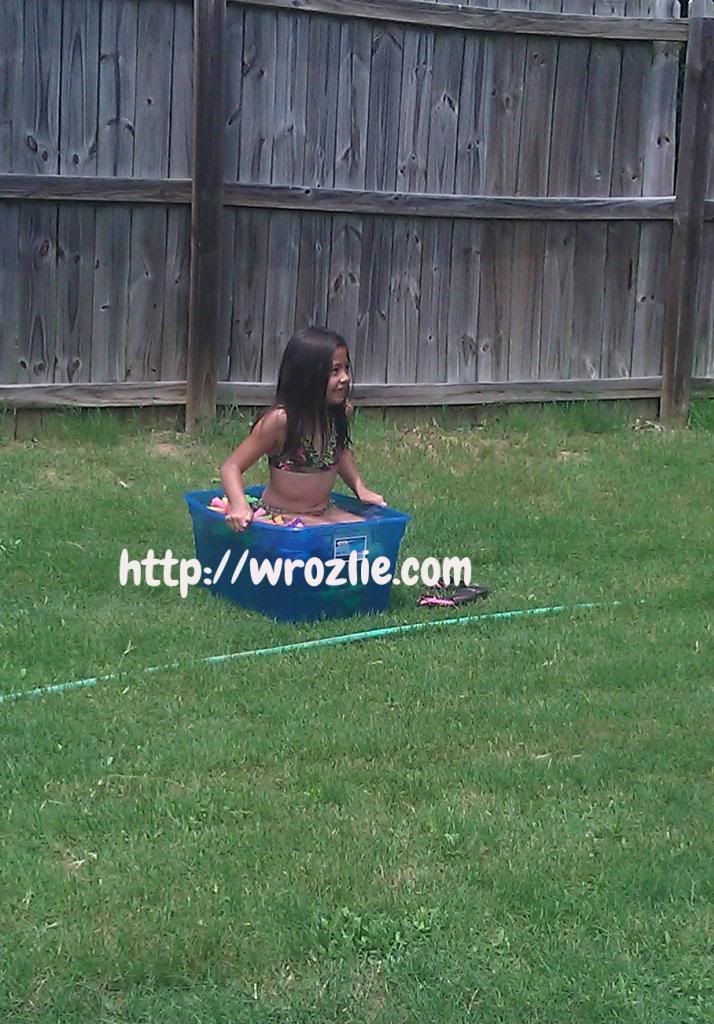 My little one having a blast inside that square bucket.
We used to not see my in-laws because they lived far away from us. But, driving to Arkansas was not that bad and since I already have confidence to drive, now we can go places. Only if my husband would let me drive to Illinois to visit my aunt and her family, that would really be perfect.
Coffee aficionados know that great coffee is never guaranteed, even when the actual coffee is gourmet quality. There are so many variables involved in crafting the perfect cup that it's easy to get it wrong – this can be costly and disappointing. One way to make sure you get it right each and every time is with a Starbucks® Verismo™ 580 Coffee Brewer – it's a top quality on demand brewing system. On demand brewers are the modern way to make coffee because they take all the guesswork out of the process – the only thing you need to do is decide what flavor of coffee you'd like to drink.
Basic lines of operation
The systems all operate along the same basic lines although there are many different makes and models. Typically the machine features a water reservoir designed to hold six to 12 cups of tap, filtered or bottled water and they require access to an electrical outlet. The machines use pre-measured sealed coffee pods, one per cup, to make the coffee so there is no need to scoop and measure coffee or deal with messy coffee grounds.
Cuisinart® single serve brewing system
To make a cup of coffee you simply place a cup, mug or glass under the brewing port, insert a coffee pod and press a button. In one minute or less the machine brews a fresh, hot and flavorful cup of coffee that is ready to drink and enjoy. The Cuisinart® single serve on demand brewing system is a great example of a top quality machine that will offer years of service; to shop for one and to compare features and benefits of the many machines on the market it's a good idea to look online at bedbathandbeyond.com, target.com, amazon.com and other websites of your favorite house wares stores.
I haven't seen a salsa deco conga, but I have seen a lot of movies with it, especially if the seen is on a Bahama vacation or something. It would be nice to have one of this even for personal use. You can gather friends and family and do your own conga dance or what have you. You can buy one of these Remo legendary series salsa deco conga at guitar center. Wouldn't it be great if you dance with your loved one while on a cruise, or while vacationing with your family. It's a great way to relax and enjoy your moment at the same time.
center>

I love to cook and I remember when we had to get rid of our old fashioned stove, I told my husband that I want to have some stainless steel, new model and top of the line stove. I had been looking at the KGSs907SSS model and I just wanted to buy it right away, since I love the looks of it and I believed that I will cook a lot better when I have the stove that I like. Although I didn't end up buying it, I know that one day, I will be able to have i, it's on my wish list before I turn 50
I have some family in Chackbay, Houma, Baton Rouge and Cocodrie, Louisiana. We were there last weekend to visit my relatives and I can say that we had a great time. Our first stop was at Chackbay it took us seven hours to get there using our van. We stopped 2 times to stretch and to use the bathroom. We left our house around 11:30pm and got there, almost 6:30am the next day. Breakfast was waiting for us and I was actually expecting it. I know my family, they will make a feast when they are having company.
This post will be about all the things that we passed by on our way to Cocodrie LA. I just thought it's too cute seeing houses that were sitting on top of stilts. I know it's preparation for flood since these houses are built next to a lake. Co0codrie is popular for vacationists who love to go boating, fishing or just want to relax. My uncle bought a camp house next to the lake and so we stayed there for two nights.
As we were driving our way to Coco Marina, Cocodrie I took some photos of houses that I thought were too cute.

This is where we were going.

Lots of rich people bought vacation homes in this area.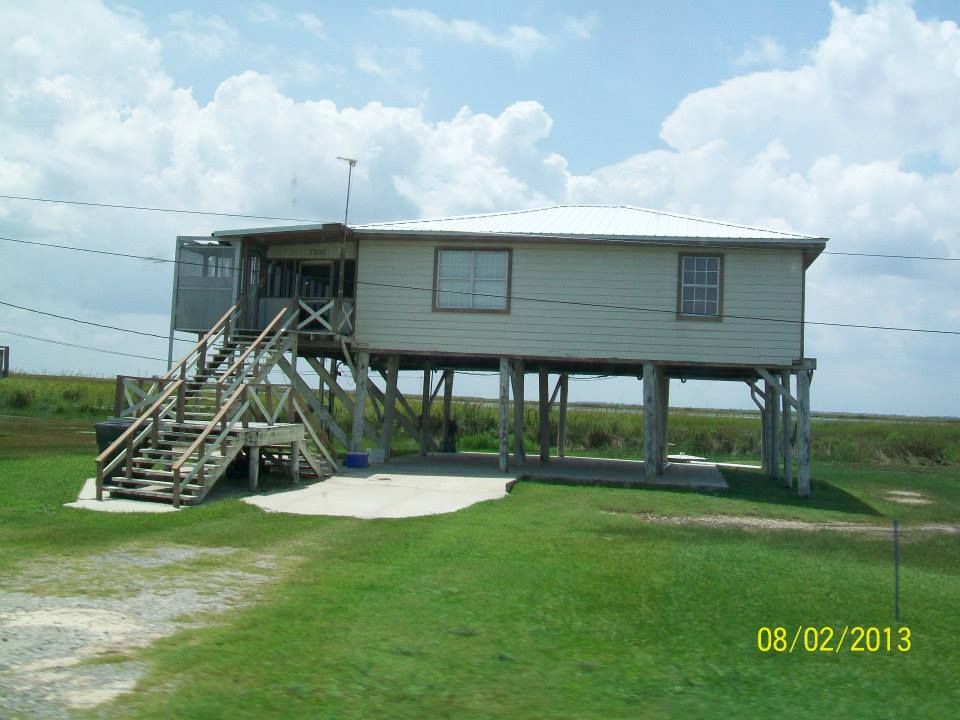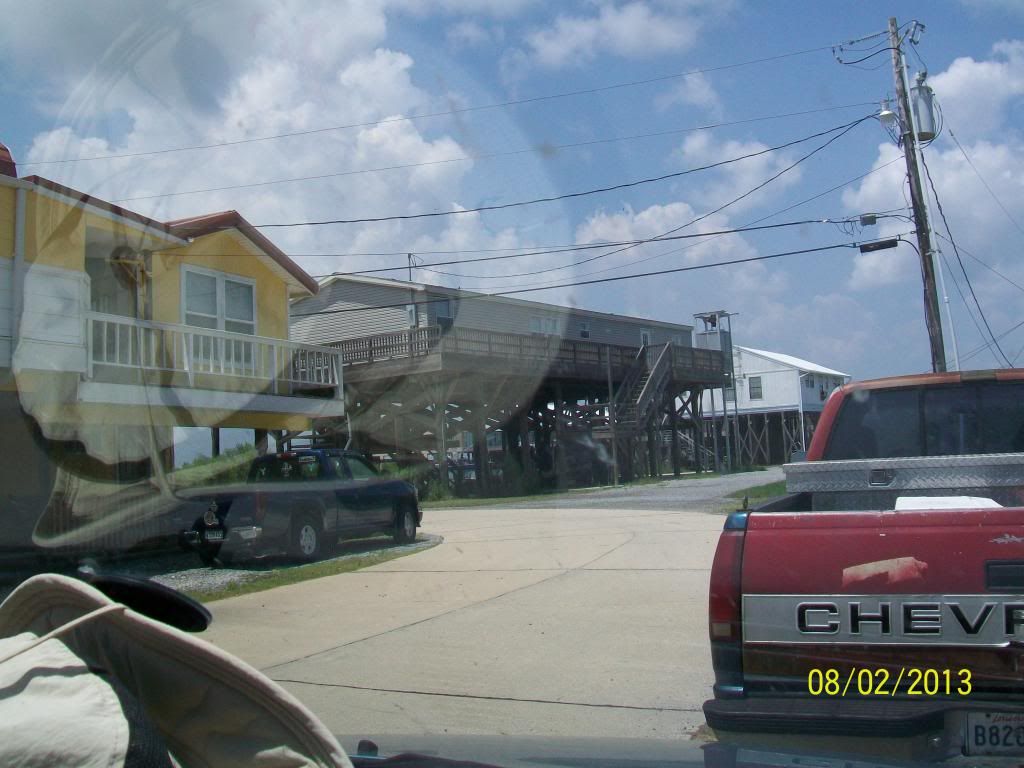 The yellow house is where we stayed at. It's a 2 storey house with 4 bedrooms and 3 bathrooms. We stayed with another family and although it was kind of awkward at first, we ended up liking the people and we had a blast.
I guess none of these houses will have problem when hurricane comes or when there is a flood. But, my uncle's house was not on stilts, so it's not safe from being ruined when a natural calamity arises. I hope and pray that it remains standing for more years to come, since we got invited to go there every year

Yes, this is a canoe. My husband bought this sometime in June and he put it to good use. When my husband says, he wants something, he will buy it, no matter what. Even if it means, he would sell some old stuff at the Fleamarket, so he doesn't touch our grocery money.
My husband loves to go fishing with the kids. I don't, since I get bored. Evey weekend is daddy's fishing schedule and the kids alternately go with him. Since the canoe is small, there can only be 3 people at  one time. One in the front, one in the middle and one in the back. The front and the back persons are the one who need to paddle so the canoe would move and go where you want to go.
last weekend was Wrozlie's turn to go fishing with Daddy, but since, she cannot paddle yet, they brought Kelsie with them. They had fun but only a big catfish to to bring home.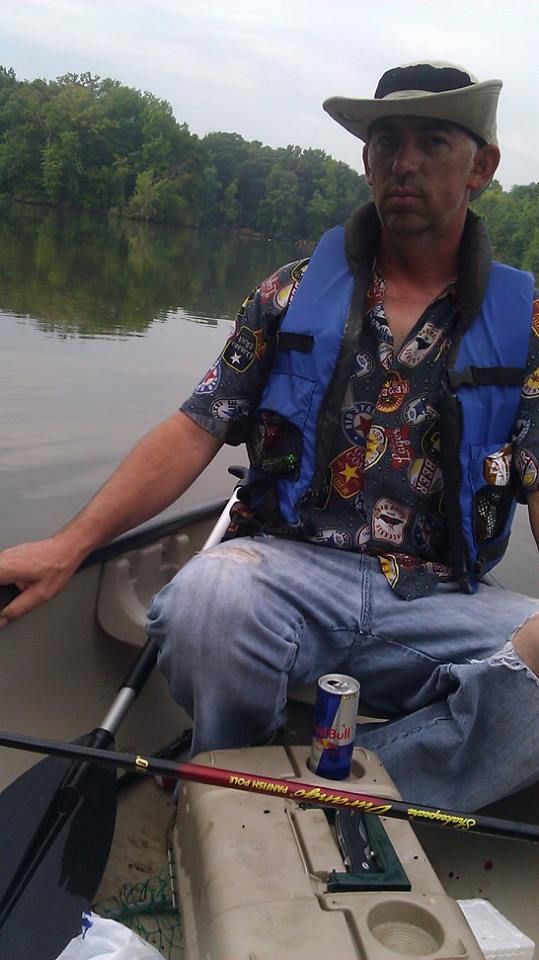 This is my good looking hubby who loves to fish and loves to feed me with his catch

Kelsie and Wrozlie trying to bring fish to Mommy.

Our little paddler.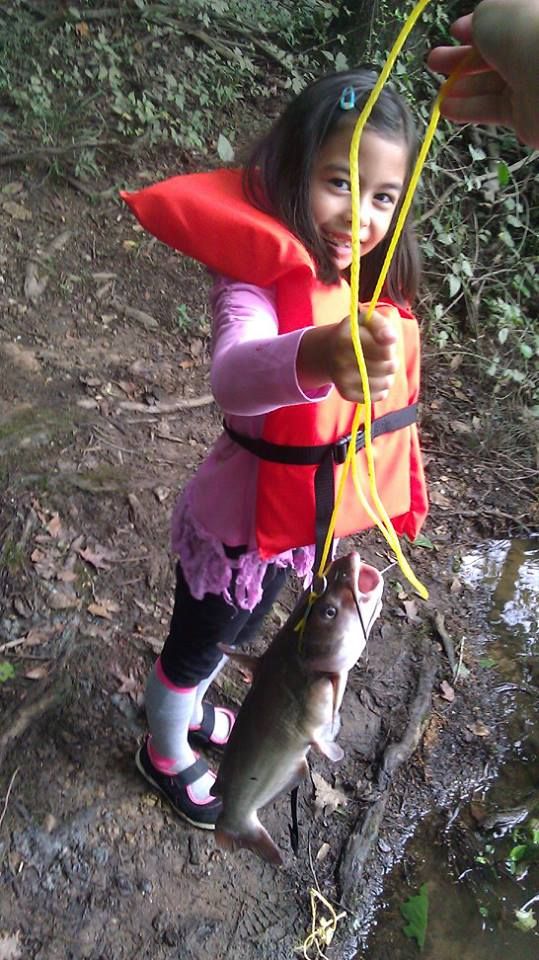 Fish for Mommy. Our cute fishergirl.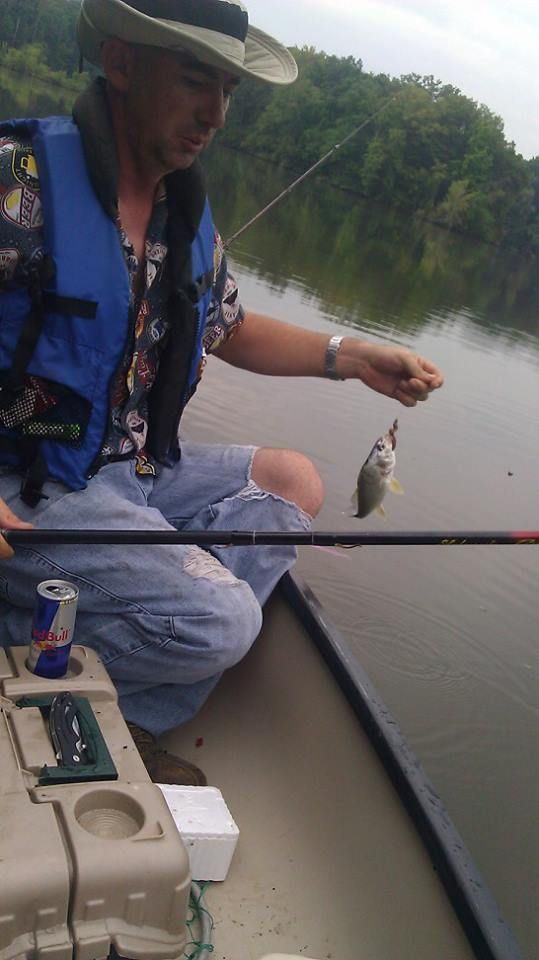 The fish looked too small, I wonder if they threw it back to the water, or is it a bait?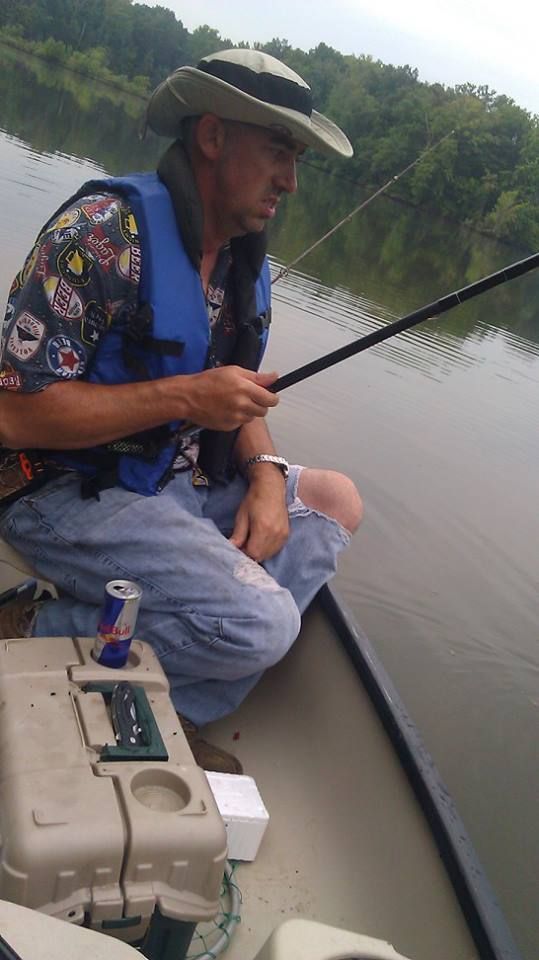 Hubby looked too serious while fishing. I bet, he was getting irritated because not a lot of fish in the area.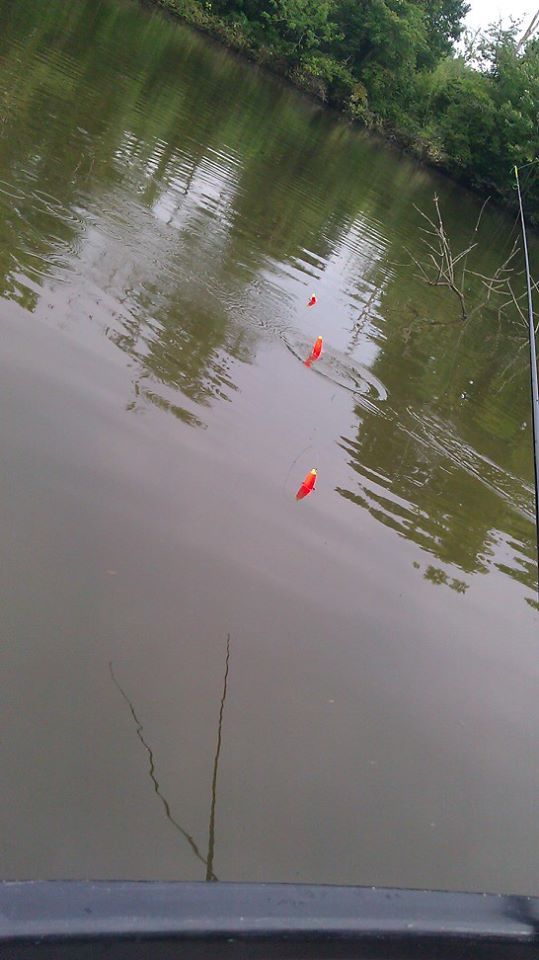 What are those orange things? I don't know if you ask me, I don't fish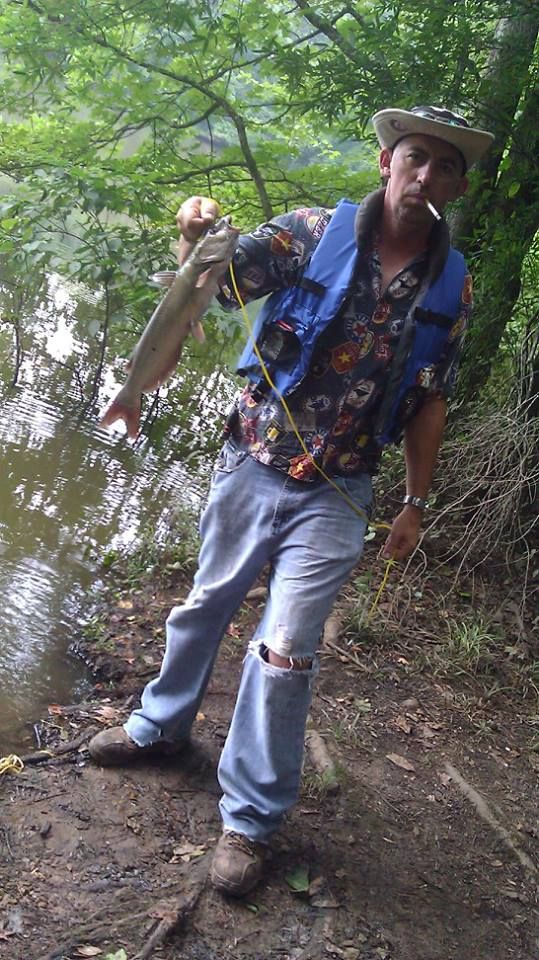 Finally, a catch! Go Baby!!!
They came home and cooked their fish and next weekend would be a Louisiana trip for all of us..